PRODUCTS AND APPLICATIONS
PRODUCTS AND APPLICATIONS
Part NumberNumber of chanelsSupply Voltage(s) (V)Bus fault voltage (V)Common mode voltage (V)Signaling Rate(Mbps)Low power modeHBM ESD (kV)IEC 61000-4-2 contact (+/- kV)IsolatedOperating temperature range (C)Package GroupStatusDatesheetSIT23313.0~3.6 -36~36 -7~121Silent84No -40~125SOP8Sample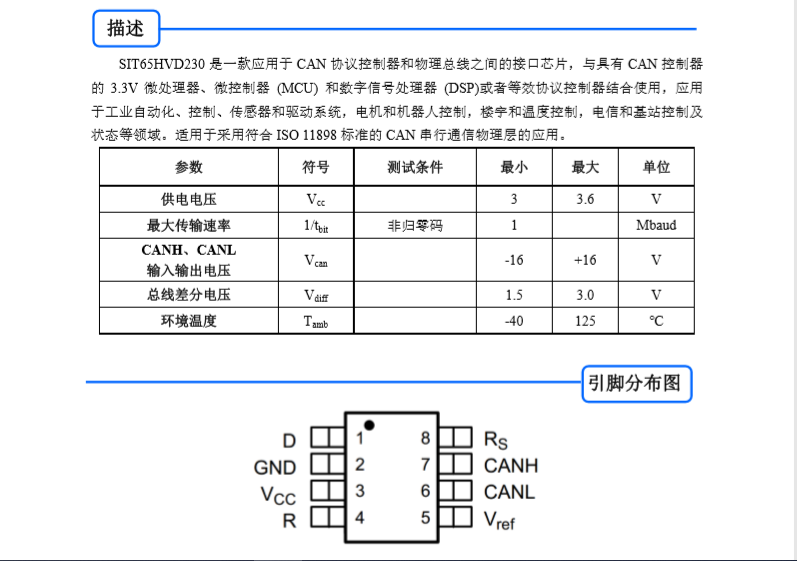 Describe:
Sn65hvd230 is compatible with sit65hvd230. Sit65hvd230 is a can transceiver chip which is used between CAN protocol controller and physical bus, and has 3.3V microprocessor, MCU and digital signal processor with CAN controller (DSP) or equivalent protocol controller is used in industrial automation, control, sensor and drive system, motor and robot control, building and temperature control, telecommunication and base station control and status. It is suitable for the application of can serial communication physical layer which conforms to iso11898 standard.
Sn65hvd230 pin to pin sit65hvd230 has the following features:
3.3V single power supply for operation;
Comply with ISO 11898-2 standard;
Bus pin ESD protection exceeds ± 1.5kV human body model (HBM);
It is allowed to connect up to 120 nodes on one bus;
Adjustable driver switching time can improve radiation performance;
Low current standby mode: 650 μ a (typical value);
Design for data rate up to 1Mbps;
Thermal shutdown protection;
Open circuit fault safety design;
Hairless pulse power on and power down protection for hot swap applications.
Please download the specification in the navigation bar > > download the specification
We could not find any corresponding parameters, please add them to the properties table
Add:Room 401, shuangchuang building, No.9, Xianlin East Road, Baohua new town, Jurong City, Jiangsu Province
Phone:18013890858 E-mail:service@sitcores.com
Add:Room 1207, innovation building, 9 Xiaotang Road, high tech Zone, Xiangtan City, Hunan Province
Phone:18502537108 E-mail:office@sitcores.com
Core power - do our best to provide customers with ASIC design services and technical products.
Science and technology as the driving force for development and innovation as the foundation
Add:Room 401, shuangchuang building, No.9, Xianlin East Road, Baohua new town, Jurong City, Jiangsu Province
Phone:18013890858 E-mail:service@sitcores.com
Add:Room 1207, innovation building, 9 Xiaotang Road, high tech Zone, Xiangtan City, Hunan Province
Phone:18502537108 E-mail:office@sitcores.com
Core power - do our best to provide customers with ASIC design services and technical products.
Science and technology as the driving force for development and innovation as the foundation